Grilled whole chicken is easier to make than most people think! With the right flavor combination and grilling technique, you are good to go. This recipe includes an irresistible Mediterranean-style chicken marinade and a few grilling secrets you don't want to miss!
If you're looking to pull out all the stops for an impressive barbecue, this grilled whole chicken is the answer!Most people, including myself, opt for something like grilled chicken thighs or bone in chicken breast. But cooking a whole chicken on the grill is not that much harder.Here is what you can expect from this easy recipe: whole chicken that is flavour-packed and juicy + perfectly crispy skin Sure, you need a little bit more time to cook a whole chicken on the grill, but it takes three main steps.Three steps to the best grilled whole chicken• Spatchcock• Marinate• Grill over indirect heat
Spatchcock Chicken Grill
Often times, cooking a whole chicken on the grill produces results that are less than exciting–overcooked and dry in some parts, or under-cooked in others.The answer? Spatchcock. It means to basically split or butterfly a chicken so that it is flattened. First, you'll remove the backbone, then break breastbone by pressing down on the wings to flatten the bird.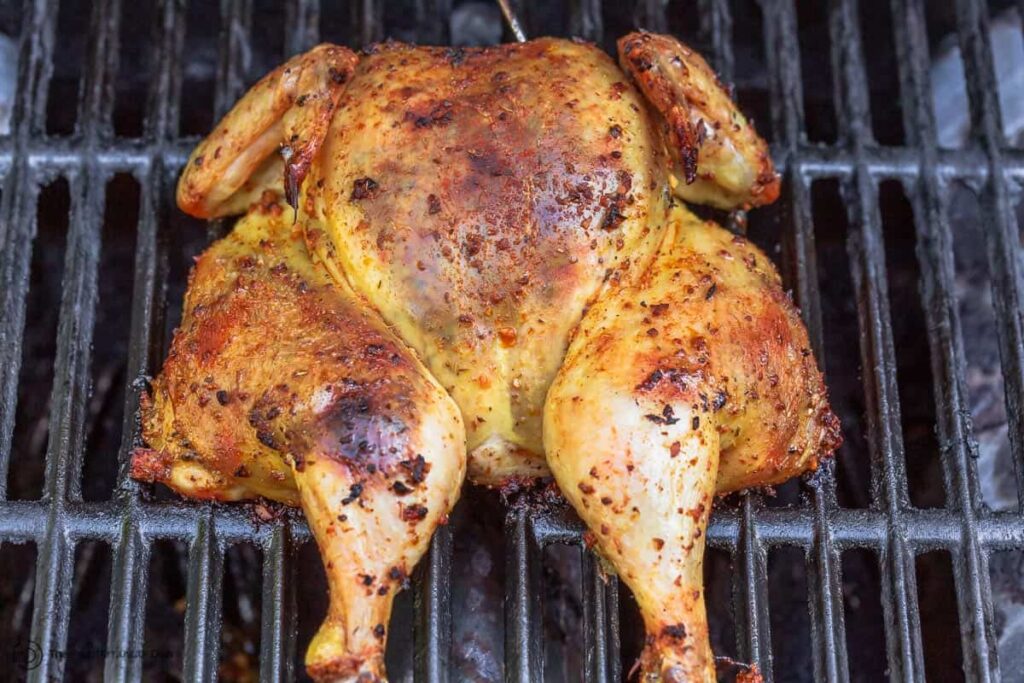 Now, let's talk flavour! It's all in the magical Mediterranean-style marinade.
For grilling a whole chicken, rather than a yogurt chicken marinade, I go for a garlic and citrus marinade with quality extra virgin olive oil and a combination of warm spices and bold herbs like oregano and thyme.
The olive oil in the marinade plays a big role in imparting color and helping the chicken skin crisp up.Here's what's in the marinade:Extra virgin olive oil. • Juice and zest of 2 lemons.• Dry oregano• Fresh thyme• Coriander• Paprika• Cumin• Black pepper• Cayenne pepper• Garlic cloves. Fresh garlic cloves are best here. I used 12 garlic cloves, peeled and minced.
Tip: For best flavour, allow the chicken to marinate in the fridge for 2 to 4 hours before grilling.
How long does it take to grill whole chicken?
We used an outdoor gas grill for this recipe. Once spatchcocked, our grilled chicken will take about 45 minutes to 1 hour over indirect heat.
While the grill is heated to 400 degrees F, the burner (or burners) directly below the chicken will be turned off, the other burners surrounding it will be on. That's what we mean by indirect heat here (be sure to watch the video below to see exactly how Adam places the chicken on the grill).
Why indirect heat? Grilling whole chicken over indirect heat is the secret to juicy, well-cooked chicken. The indirect heat essentially roasts the chicken to perfect doneness without dealing with flare-ups, burnt chicken skin, or underdone meat.
How to grill a whole chicken?
Remember to have already spatchcocked the chicken (as detailed earlier) or you can ask the butcher to do that bit for you! Then follow these steps (print-friendly recipe and video below):
1) Season the chicken well. I like to salt the chicken first on all sides with kosher salt, and it's important to get underneath the skin as well with some salt.
TIP: You can even do this step one-night in advance and let the chicken air-chill in the fridge to allow the salt to season and tenderize the chicken.
2) Marinade the chicken. Mix together the olive oil, lemon juice, spices, herbs, and loads of fresh garlic in a small bowl. Whisk to combine well. Apply the marinade particularly underneath the chicken skins and all over. Set the chicken in the fridge for 2 to 4 hours to allow the marinade a chance to impart flavour.
3) Grill over indirect heat. Preheat gas grill to 400 degrees F (grates oiled). Place the chicken on the grill and turn off the burner or burners directly below it, leaving the burners around it on (so the chicken will grill over indirect heat). Grill for about 45 minutes to 1 hour or until the chicken's internal temperature at the thickest part reaches 165 degrees F.
Tip: Check every 15 minutes, and if the chicken looks browned on one side, rotate it at about 90 angles. The side of the chicken closest to the direct heat will begin to brown quickly, rotation will allow for a more evenly browned skin.
4) Allow the chicken to rest before serving. Remove the whole grilled chicken from the heat and allow it to sit for 10 minutes before slicing to serve. This will allow the juices to redistribute, making for a more succulent, juicy chicken.
INGREDIENTS – Marinade
• ⅓ cup extra virgin olive oil
• Juice and zest of 2 lemons
• 1 tablespoon dry oregano
• 1 tablespoon fresh thyme
• 1 teaspoon coriander
• 1 teaspoon paprika
• ½ teaspoon cumin
• ½ teaspoon black pepper
• ½ teaspoon cayenne pepper more if you like spicy
• 12 garlic cloves peeled and minced
INSTRUCTIONS – LIST
Spatchcock (butterfly) the chicken (or ask your butcher to do it). Place the chicken on a cutting board with its backbone facing you. Using a pair of sturdy kitchen shears to cut out the backbone by cutting along both sides of the spine, and remove it. Push down on the breasts to flatten the chicken. Flip the bird over and remove the wing tips.
Season the chicken. Pat chicken dry and season with salt all over, lift the skin and apply salt underneath.
Mix the marinade. In a small bowl, mix together the marinade ingredients (olive oil, lemon juice, oregano, thyme, spices, and minced garlic cloves).
Apply the marinade to the chicken. Place the chicken in a large dish (with sides so that the marinade does not spill).
Apply the majority of the marinade underneath the chicken skins (this will ensure best flavor), and be sure to rub some of the marinade on the back side of the chicken as well. Keep the chicken flat with skin side up. Marinate in the fridge for 2 to 4 hours.
Grill. Preheat an outdoor grill over medium-high (400 degrees F) and make sure to lightly oil the grates. Place the chicken over indirect heat (this means, the burner or burners directly below the chicken should be turned off, while the outer burners surrounding it should remain on. Cover and cook for 45 minutes to 1 hour or until the chicken's internal temp reaches 165 degrees F. Check every few minutes, and if the chicken gains some color on one part, rotate as needed.
Rest. Remove the chicken from the heat and set aside to rest for 10 minutes before slicing through to serve