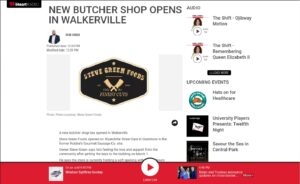 The news is slowly getting out: https://www.iheartradio.ca/am800/news/new-butcher-shop-opens-in-walkerville-1.19400016
Steve Green Foods opened on Wyandotte Street East at Gladstone in the former Robbie's Gourmet Sausage Co. site.
Owner Steve Green says he's feeling the love and support from the community after getting the keys to the building on March 1.
He says the store is currently holding a soft opening with various hours but will have permanent hours starting on April 4.
Green says he's really happy with the response from the community.
---
"I really, can't say enough about the Windsor-Essex community they've really made me feel welcomed and congratulatory, happy for me," says Green.
He says the area of Walkerville where the store is, is close to his heart.
"Being involved for over 20 years in the food business, is that you know a lot of people and you tell one person and 10 people know," he says. "So while I was getting ready people were already walking in, I was like hang out, give me a couple weeks."
The butcher shop will offer a variety of meats, fish and seafood, deli meats, cheese and products from local businesses.
Starting on April 4, the butcher shop will be open Tuesday to Saturday from 10 a.m. until 6 p.m. and on Sunday's from 10 a.m. until 4 p.m..